Regular price
R 0.00
Sale price
R 998.00
Unit price
per
Sale
Sold out
Experience the beauty and sustainability of vegetable tanned Italian leather with our new strap for the Apple Watch. Made from premium quality, soft Italian leather, this strap is designed to enhance your Apple Watch style while providing comfort and durability.
We believe that your Apple Watch deserves the very best, and that's why we've created the ultimate accessory that will stand the test of time.
60 Day Money Back Guarantee

Genuine Italian Leather

Lifetime Warranty
Share
View full details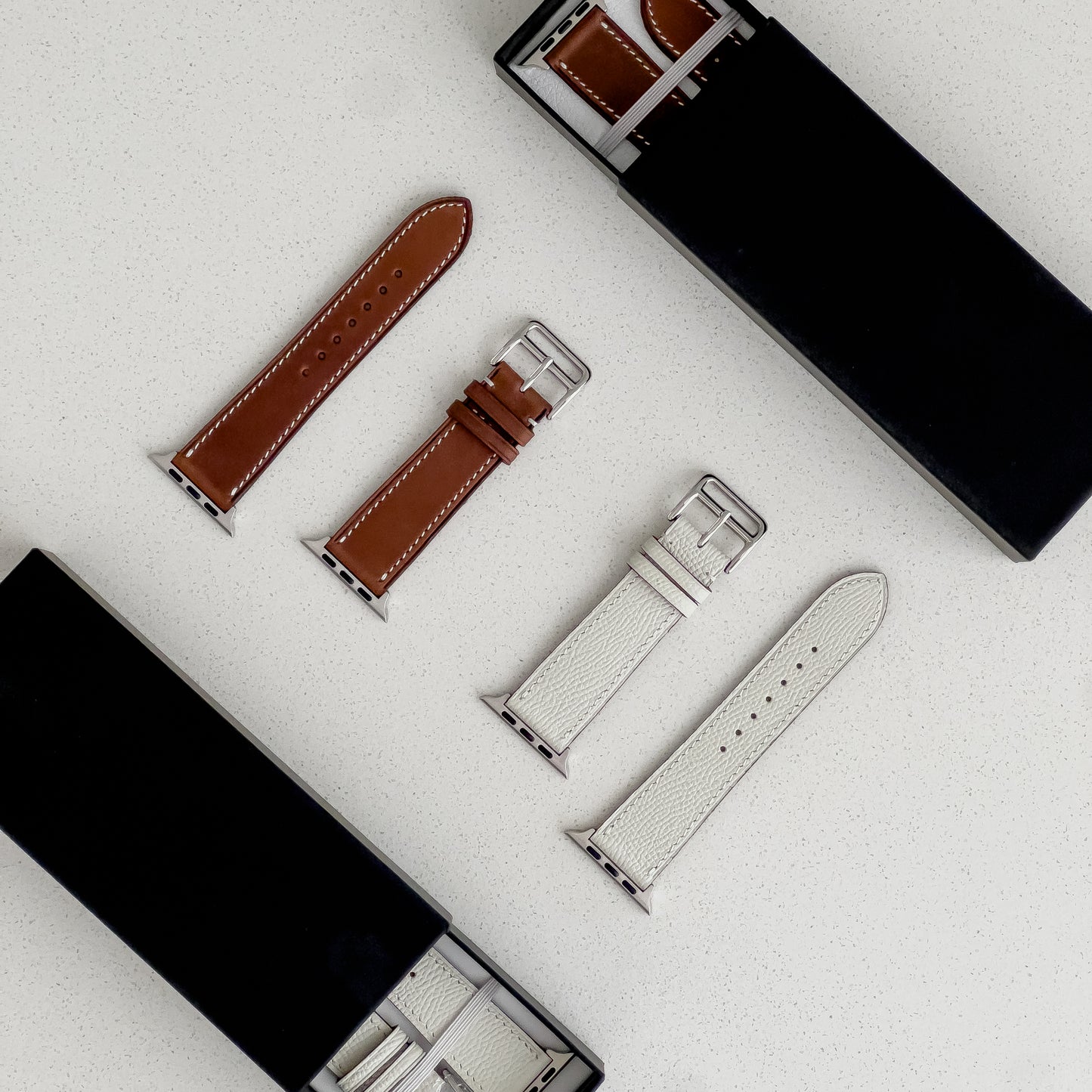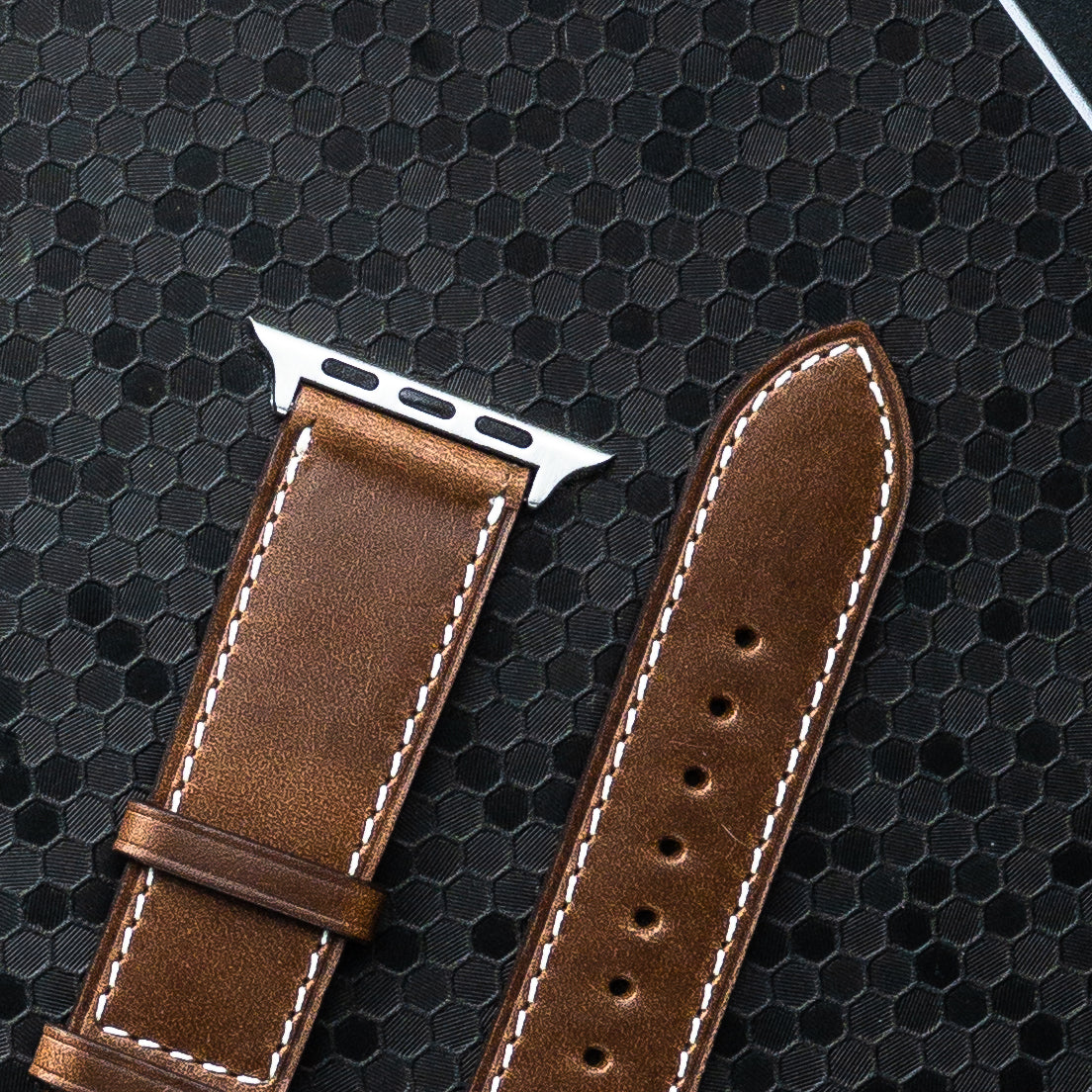 The Details
Premium quality Italian leather

Our strap is made from the highest quality vegetable leather, sourced from Italy.
Handcrafted

Our strap is handcrafted by skilled artisans, ensuring that each piece is made with care and attention to detail
Elegant and versatile design

Our strap is designed to complement any style, whether you're dressing up for a special occasion or dressing down for a casual day out.
60-Day Money Back Guarantee

60-Day Money Back Guarantee from the day you receive the item. No questions asked. As well as our lifetime warranty against product defects.
The Leather
Our straps crafted from vegetable-tanned Italian leather display a character unique to this environmentally friendly material. Over time, the leather develops a rich patina, adding a layer of individual personality. The vegetable tanning process ensures a durable, flexible product, making it a preferred choice for those seeking quality and sustainability
The Process
Vegetable-tanned Italian leather is renowned for its exceptional quality, environmental friendliness, and the centuries-old craftsmanship involved in its production. Originating from Italy's skilled leather artisans, this leather undergoes a unique tanning process using tannins extracted from plant matter such as tree bark, leaves, or even some types of fruit.
This vegetable tanning process results in a leather that is durable, yet flexible, and has a unique character. Over time, the leather develops a rich patina, a surface sheen that adds depth and personality to the material, making each piece truly unique.
Additionally, because it avoids the use of synthetic chemicals common in other tanning methods, vegetable-tanned Italian leather is considered environmentally friendly. Its natural and hypoallergenic properties make it a great choice for people with sensitive skin.
Pride and Connection
When you wear our new vegetable tanned Italian leather strap for your Apple Watch, you'll feel a sense of pride and connection to the natural world. You'll know that you're wearing a high-quality material that is both beautiful and practical. You'll also feel comfortable and stylish, with a strap that conforms to your wrist and enhances the look of your Apple Watch.
Sustainable Tanning

Vegetable tanned leather is biodegradable and non-toxic, making it an environmentally friendly option.

Durable Leather

Vegetable tanned leather is known for its strength and durability. With proper care, it can last for years and develop a beautiful patina over time.

Comfortable Wear

Vegetable tanned leather is breathable and soft, making it a comfortable material to wear against your skin.

Unique Patina

Each piece of vegetable tanned leather is unique, with natural variations in color and texture that give it a distinctive character.